Many thanks and lots of applause to our hardworking co-chairs for the show – Ed Zimmerman and Butch Riley - for organizing and presenting another spectacular show.  Don't know how they keep ordering great weather for the day, but the third Sunday of September seems to bring with it perfect car show weather and a great crowd.
We could not have asked for a more beautiful day, and it was even a little cool (at least in the morning!) In twenty-three years, we have only had to use the raindate twice - in 1995 and in 2002.  By 7:00 the cars and trucks started rolling in for a show that was supposed to start at 10:00!  Wow.  By the end of the day, we had more than 372 cars and trucks on the show field! We know that a lot of vehicles never bothered to come down and get their number, and several cars showed up after registration closed, so we aren't sure exactly how many vehicles there were.

Butch is still counting the money we made selling t-shirts, the raffles, the auction, registration, spectator's gate and donations, so we hope to have a total soon.
Special thanks to Golden Gears who donated $1,000,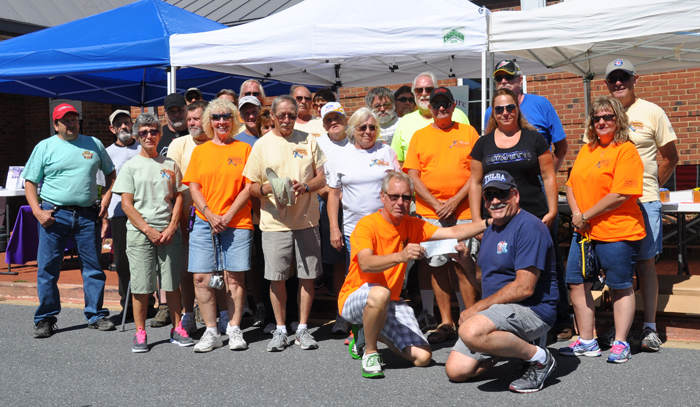 to Sugarloaf Mountain AACA who donated $500, and to individuals who made sizeable donations: William A Hipkins – Trustee, Edward Earl Howser III, Gregory B Dorsey, Oliver Davis and Herb Rieger. Also notable was a nice donation from area Shell stations: Aspen Hill Shell, Frederick Shell & Carwash, Mount Airy Shell, FSK Shell on Buckeystown Pike and Urbana Shell-Dash In. And PEH Distributers: Mark Samuels, Vice President; Mike Mulhern, Sales Manager; and David "Corky" Calhoun, Area Manager.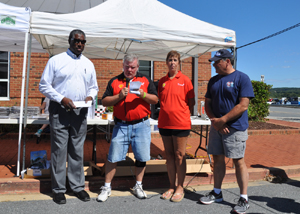 The Alzheimers Association Greater Maryland Chapter folks were there and expressed their great appreciation for all the club has done in raising much needed funds for their local needs.  Due to the money Heart of Maryland Classic Chevy Club members have raised, they are able to provide services that would otherwise need to be cut due to lack of funding.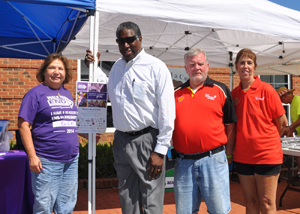 During the day we were able to give out 20 $25 Shell Gift Cards to participants – thanks to JR & Joanne of Aspen Hill Shell and PEH distributers who donated the Gift Cards!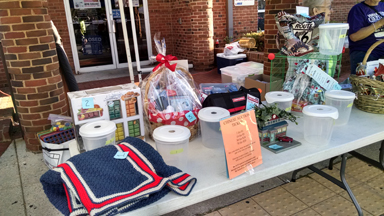 At the Chinese Raffle, we had some really special items – a handmade afghan, a cool reindeer necklace, and some really terrific baskets.  Many thanks to Janet, Bev, Sissy and friends who donated these!
A special shout out to Boy Scout Troop 460 from Mount Airy who came out again this year to help us with a lot of running around the parking lot, emptying trash cans, helping with parking, manning the Spectator Gate and at the Moon Bounce.  They were also selling sno-cones, which were welcome on such a hot afternoon!  It was a long day for them, but they really liked the cars (and trucks!).  Hopefully they'll be back next year again to help out!
| | |
| --- | --- |
The auction was a huge success.  Several participants in the show actually showed up with some neat contributions to the auction. Some of the highlights of the auction were the Estate Planning donated by Scott A. Morrison, a hand painted custom guitar donated by Mark Naylor, lots of gift certificates, car care items, banners (garage art!), collectibles, and lots more.  You never know what's going to show up at the auction.  Many thanks to members who unpacked and displayed all the "stuff" and Peggy Kaplan, Marsha Z, Kingsley Edwards and Bob Clubb who served as our clerks.  Thanks to JR and Joanne Rosenberger for providing the great big top tent for lots of shade on a very sunny day! And of course thanks to John Roop and Roger Rothenhoefer (he's got a 1949 Chevy Fleetline) our exceptional auctioneers!
Congrats to Frank Baker who survived his fourth Alzheimer's Show as President and did a great job and to Bev Baker who did a fantastic job her fourth time out with the official clipboard keeping everything running on time! 
Many thanks to John Chance who arranged with the Law Mall to let us cover the No Parking signs again.  I don't know where we would have parked all those spectators! And thanks to the Frederick County DPW for allowing us to use their parking lot.
Many thanks to Butch and Sissy for organizing all the vendor stuff!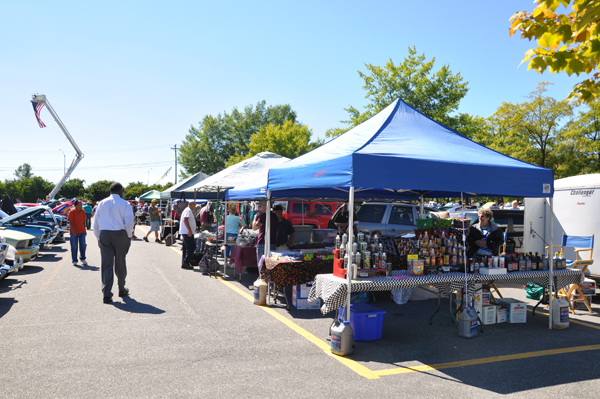 The Event Program and award designs by Sissy Riley were exceptional (as always!).
A special treat this year was a photo board donated to us by Shannon Baum Signs in Eldersburg.  Lots of folks had fun poking their head thru and "driving" a '57 Chevy!
Thank you to all who worked to make the 23rd Annual Alzheimer's Show a huge success.  Thanks to those who came out to help set up, worked registration, collected from participants, parked cars, tallied votes, worked the auction, sold t-shirts, sold raffle tickets, sold 50/50 tickets, gave out door prizes, moved porta-pots (it was fun to watch, too!), worked the sound system, cleaned up the trash afterwards, and more!   
Thanks to our club members for all their hard work the day of the show, in advance preparations and in the followup. Special thanks to our Hardworking Non-Members JR & Joanne and Murl and Bob Clubb & Kingsley Edwards.  You guys are great!  Without your help, we couldn't have done it!
Thank you to MVA for letting us host our show at their location. 
Thank you to Robert Clubb Associates for sponsoring the trophies and awards.
Thank you to all the sponsors for their generous donations to allow us to put on this show.
Thanks to the other clubs and organizations who came out to support us.
Thanks to Critical Power who donated the use of their generator.  We would have been totally lost without it!
It was great to see a lot of new faces and familiar faces!
We had our terrific food vendors:  Angel's Concessions, Jimmie Hot Dog Man, In10se BBQ and Dublin Roasters Coffee and a lot of other great vendors.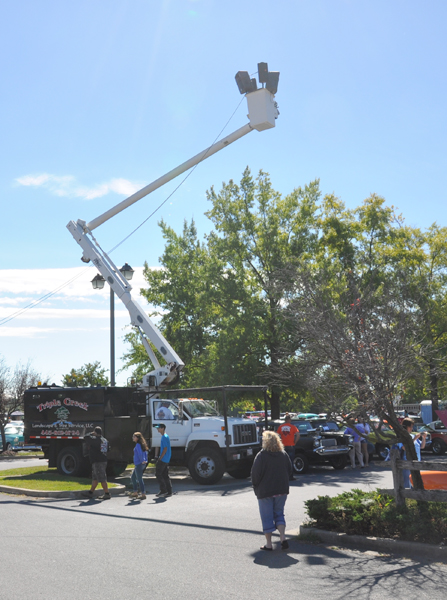 Thanks to Eric Stonesifer and his business Triple Creek Landscaping who provided a lift which proved to be the solution to our continuing sound system issues.  By lifting the speakers high, they were much more audible.  Thank you!
Out of all the fantastic vehicles on the showfield, here's our list of winners!.
This year, we did two 50/50's.  The am 50/50 was won by Tom Webber of Golden Gears, who won $516 and then donated back $100 of that to the Alzheimer's Association.  The pm 50/50 of $326 was won by Matt Brashears who donated back $100 of that to the Alzheimer's Association.
Jim Onque of Jimmie's Hot Dogs, one of our great food vendors, won the 60" Sharp HD Smart TV.  He bought three tickets the day of the show!  Second prize of the iPad was won by club member Claudette Gouzoulis of New Market.  Claudette generously donated the iPad back to the club for us to sell or raffle off again. Congratulations to both of you!