Member's Pride
Lee Caplan
1955 Powerglide 210 Sport Coupe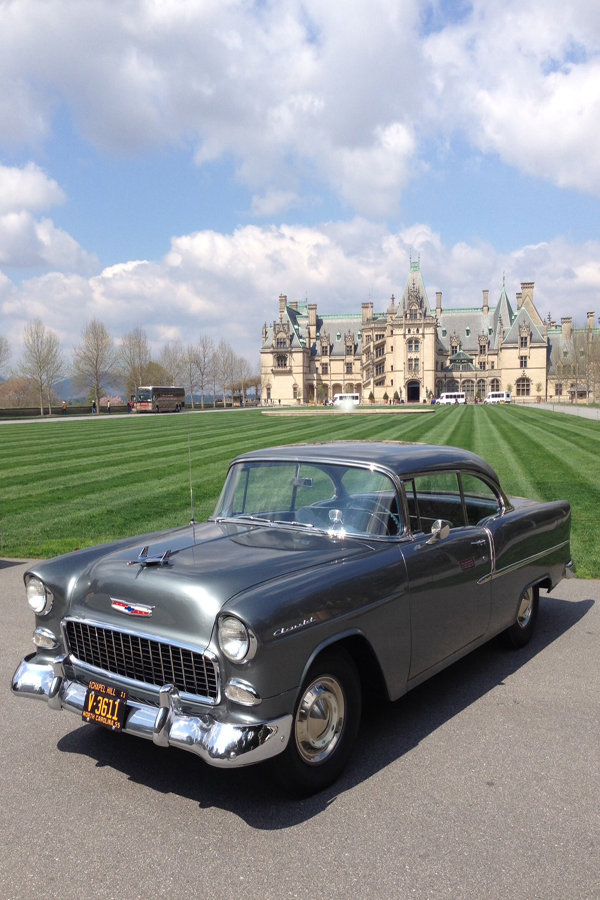 Image is of my stock original, low option, 235/136, Powerglide, '55 210 Sport Coupe on the grounds of the Biltmore Estate in Asheville, North Carolina on April 9, 2014. Believe it, my car is filthy in this image having been driven in an all day monsoon rain storm two days earlier during the Vintage Chevrolet Club of America Appalachian Adventure Tour. The shadow gray seems to hide the dirt but I know it's there big time.

On the tour we covered 512 official miles through North Carolina and Tennessee including the famed "Tail of the Dragon" an 11 mile stretch through southeastern Tennessee containing 318 distinct curves. I also drove the car an additional 276 mostly freeway miles returning from the tour for a total of 788 miles in six days. The old car can still reliably get up and go.

In addition to touring the car earned its AACA 1st Grand National at Moline, Illinois and it's VCCA Senior at Lake Geneva, Wisconsin last summer.


HMCCC OFFICERS

President:  Frank Baker
410-840-8089 fobaker@comcast.net
Vice President: 
Janet Stein 
Chemgal57@gmail.com
Treasurer:  Butch Riley
301-514-8265
bluesteel1955@gmail.com
Secretary: Bev Baker
410-840-8089 blbaker08@comcast.net
Sergeant at Arms 
Barb Zimmerman
Spider Woman
Sissy Riley
(she tends our web!) http://www.hmccc.50g.com/
Club Email Address: 567hmccc@comcast.net
Newsletter Editor
Carroll Anderson
7018 Willow Tree Drive
Middletown, MD 21769
email: c.g.anderson@comcast.net
or phone: 301-371-7087
Contributions to the newsletter are welcome and encouraged!
MEMBER SUBMITTALS for publication in the newsletter are encouraged. If you have a tech tip, commentary, cartoon, item or article of interest or anything you wish to share with fellow members, please send to the above address.
Maryland State
Representatives For
Classic Chevy International
Ed Zimmerman
New Market, MD
EZClassics@comcast.net
301-865-5270
April Grammont
Westminster MD
(410) 876-8898
aprilg57@aol.com

CCI memberships are $39.99 per year and include a monthly magazine with tech tips, news and a parts catalog for stock & performance items for 1955 to 1972 Chevys