About HMCCC
The members and friends of Heart of Maryland Classic Chevy Club welcome you to our website. As a club, we are dedicated to the enjoyment of '55-'56-'57 Chevys and other classic vehicles. Heart of Maryland Classic Chevy Club is local chapter #96031 of Eckler's Classic Chevy International of Titusville, Florida. Heart of Maryland Classic Chevy Club is incorporated in the State of Maryland as a non-profit organization. We are a family-oriented club and host several car & truck shows each year. Dues are $20.00 per year, payable in January.
for a printable membership application.
See a List of our Sponsors Click here
Check out "A Guide to Classic Cars" click here Jessica Atlass
NEXT MEETINGS/EVENTS: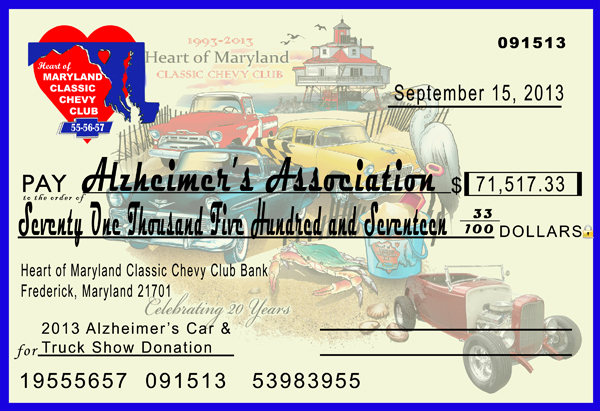 Nov 2 - Covered Bridge Classic Car Cruise. 9:30 am – 1:30 pm. Meet at the High's Gas & Go, 2101 Route 97 (Georgia Ave extended), GlenElg/Cooksville. The cruise will end at Mountain Gate Restaurant n Thurmont for lunch. A map of the route will be given out at the start. Raindate: 11/9. Questions? 240-687-6896.

Nov 12 - HMCCC Meeting and election of new officers for 2014-2015 at the offices of Frall Developers, Inc., 13992 Penn Shop Road, Mount Airy, MD 21771.

Dec 7 - HMCCC annual Christmas Party, 6:00 pm at Reese Volunteer Fire Department activities Building. 1745 Baltimore Boulevard, Westminster, MD 21157. Members are encouraged to bring non-perishable foods for donation to the Carroll County Food Bank.

Click here for sign up form pdf
HMCCC OFFICERS
2012-2013
President: Frank Baker
410-840-8089 fobaker@comcast.net
Vice President:
Ed Zimmerman
301-865-5270 ezclassics@comcast.net
Treasurer: Butch Riley
Secretary: Linda Riggs
301-829-0171 riggs57@comcast.net
Sergeant at Arms
Paul Schneider
301-831-7618
Spider Woman
Sissy Riley
(she tends our web!) http://www.hmccc.50g.com/
Club Email Address: 567hmccc@comcast.net
Newsletter Editor
Carroll Anderson
7018 Willow Tree Drive
Middletown, MD 21769
email: c.g.anderson@comcast.net
or phone: 301-639-4800
Contributions to the newsletter are welcome and encouraged!
MEMBER SUBMITTALS for publication in the newsletter are encouraged. If you have a tech tip, commentary, cartoon, item or article of interest or anything you wish to share with fellow members, please send to the above address.
Maryland State
Representatives For
Classic Chevy International
Ed Zimmerman
New Market, MD
EZClassics@comcast.net
301-865-5270
April Grammont
Westminster MD
(410) 876-8898
aprilg57@aol.com

CCI memberships are $39.99 per year and include a monthly magazine with tech tips, news and a parts catalog for stock & performance items for 1955 to 1972 Chevys