Eagle One Award 2006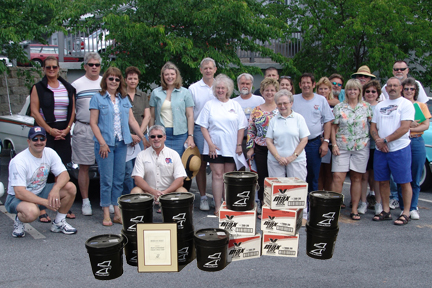 Eagle One would like you to know how appreciative the company is for your participation in the annual Eagle One Golden Rule Award program. The deep commitment to community service that clubs such as yours reflected make judging a challenging task. Your entry was selected for an Award of Merit as the runner-up in the Eastern Region for your work in 2005. You may be interested to know that the winning club was the Jukebox Cruisers Car Club of Jim Thorpe, PA. This awards program honors those car clubs whose members have demonstrated exceptional support to community and charitable causes. Your club is a perfect example of such service and dedication. Eagle One also commends you and your members for your active involvement in the preservation and restoration of one of our country's greatest historical heritages, the automobile.
You will be receiving a generous supply of Eagle One's premium appearance care products and Valvoline motor oil for use in fund-raising activities or by your members. Once again, congratulations to you and your fellow members for your distinguished community service program. Keep up the great work!

Hemmings Motor News Honors Five Hobby Heroes at Media Motor Show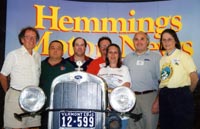 Each year Hemmings Motor News recognizes "Hobby Heroes" to honor and encourage individuals and organizations whose activities strengthen the collector-car hobby and enhance the broader communities in which they live and work. Each Hobby Hero receives a certificate of appreciation and a $1,000 award from Hemmings Motor News as a check payable to the nonprofit organization of the awardee's choice.
Certificates and checks were presented at HMN's 13th Annual Media Motor Show in Bennington, Vermont, July 19, in the presence of 50 automotive journalists from around the nation. The five Hobby Heroes, are included in the group photo below. Hemmings Motor News is proud to recognize and honor their good works.
Rick DeBow & Marvin Thomas
Heart of Maryland Classic Chevy Club
Accepting the Hobby Hero award for the Heart of Maryland Classic Chevy Club were President Marvin Thomas and Vice President Rick DeBow, representing club members whose purpose is encouraging restoration, preservation and enjoyment of 1955 through 1957 Chevrolet automobiles, including trucks and Corvettes. Hosting several car and truck shows every year, Heart of Maryland is one of over 200 local chapters worldwide affiliated with Classic Chevy International and is a chapter of Bow Tie Chevy Association.
Incorporated in the winter of 1992-93, the club's membership has grown to over 65 members, who share a love of '55, '56 & '57 Chevys in the Frederick, Maryland area, and who participate in many car shows and cruise-ins each year. Net proceeds from their Alzheimer's Association Benefit Car & Truck Show have totaled over $50,300 in just eight years.
HMCCC OFFICERS

President:  Frank Baker
443-375-1861 fobaker@comcast.net
Vice President: 
Janet Stein 
Chemgal57@gmail.com
Treasurer:  Butch Riley
301-514-8265
bluesteel1955@gmail.com
Secretary: Bev Baker
443-974-5958 blbaker08@comcast.net
Sergeant at Arms 
Barb Zimmerman
Spider Woman
Sissy Riley
(she tends our web!) http://www.hmccc.50g.com/
Club Email Address: 567hmccc@comcast.net
Newsletter Editor
Carroll Anderson
7018 Willow Tree Drive
Middletown, MD 21769
email: c.g.anderson@comcast.net
or phone: 301-371-7087
Contributions to the newsletter are welcome and encouraged!
MEMBER SUBMITTALS for publication in the newsletter are encouraged. If you have a tech tip, commentary, cartoon, item or article of interest or anything you wish to share with fellow members, please send to the above address.
Maryland State
Representatives For
Classic Chevy International
Ed Zimmerman
New Market, MD
EZClassics@comcast.net
301-865-5270
April Grammont
Westminster MD
(410) 876-8898
aprilg57@aol.com

CCI memberships are $39.99 per year and include a monthly magazine with tech tips, news and a parts catalog for stock & performance items for 1955 to 1972 Chevys