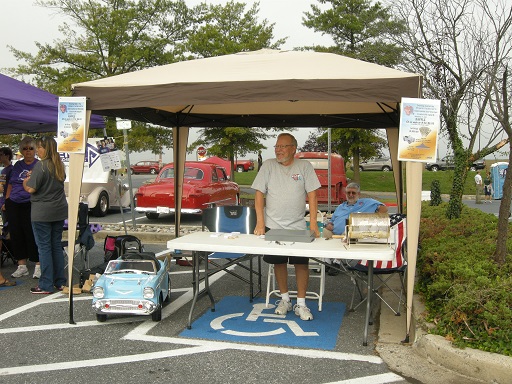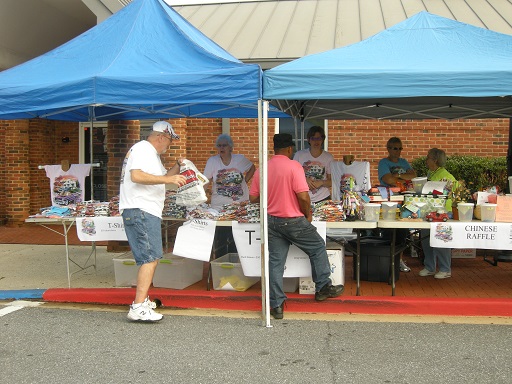 Many thanks and lots of applause to our hardworking co-chairs for the show – Ed Zimmerman and Butch Riley - for organizing and presenting another spectacular show. It was a beautiful day, although a bit toasty in the afternoon. In twenty-five years, we have only had to use the raindate twice - in 1995 and in 2002.
When we arrived to set up, we already had cars lined up and rolling in for a show that was supposed to start at 10:00! Wow. By the end of the day, we had 330 cars and trucks and motorcycles on the show field!
Butch is still counting the money we made selling t-shirts, the raffles, the auction, registration, spectator's gate and donations, so we hope to have a total soon.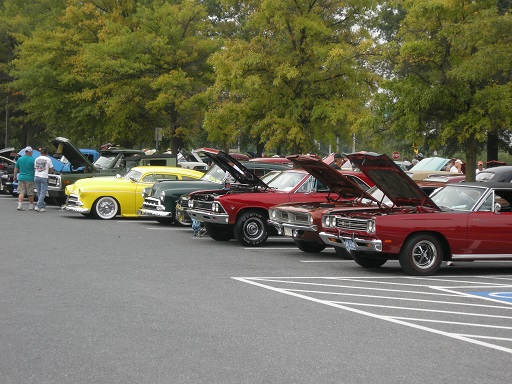 HMCCC was honored to receive three proclamations in recognition of our 25 year long association with the Alzheimer's Association. Frederick County Executive Jan Gardner presented a Certificate of Recognition on behalf of Frederick County. Frederick Mayor Randy McClement presented a Proclamation on behalf of the City of Frederick. And the Alzheimer's Association presented a commendation.
Special thanks to those who made sizeable donations: Aspen Hill Shell; Golden Gears; Becky & Jim Gloyd; Wastler Automotive in Taylorsville; Robert Lillard; William Hipkins; Sugarloaf Mountain Region AACA; Butch & Sissy Riley; Herb Rieger; Elizabeth & Ray Booth and Kingsley Edwards.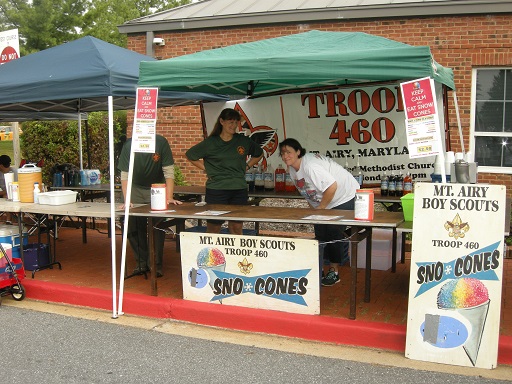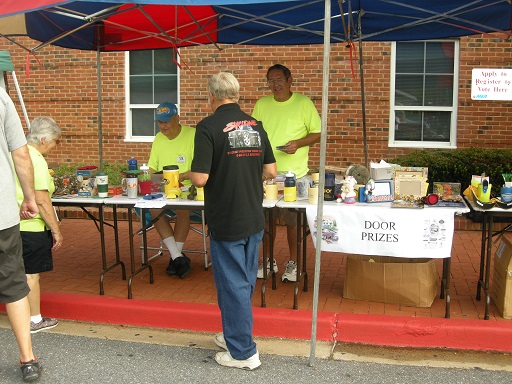 WDVM-TV was there and recorded the festivities and interviewed Ed. There was a very nice clip on TV on Sunday and Monday.
Thanks to Scott who provided the coffee and donuts to fuel us up in the morning!
Thanks to Donnie Wood and the Front Porch Boys for entertaining us with live country music!
The Alzheimers Association Greater Maryland Chapter folks were there and expressed their great appreciation for all the club has done in raising much needed funds for their local needs. Due to the money Heart of Maryland Classic Chevy Club members have raised, they are able to provide services that would otherwise need to be cut due to lack of funding. Representing the Alzheimer's Association under their new purple tent: Ellen Torres, Development Director; Cathy Hanson, Program Manager; Ann Hardy; Justin Miller; Kathy Siggins-Brooks; JD Brooks; Ronnie Osterman; Chris Smith; and Tammy Payton, Development Assistant.
During the day we were able to give out 20 $25 Shell Gift Cards to participants – thanks to JR & Joanne of Aspen Hill Shell who donated the Gift Cards!.
At the Chinese Raffle, we had some really special items. Many thanks to Bev, Alice, Sissy, Lynda, Janet and Linda who made up the baskets and donated items.