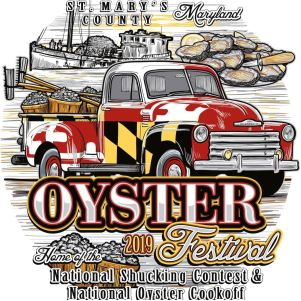 Fall Cruise 2019. Saturday, Oct 19 dawned clear and crisp and a bit chilly as HMCCC members headed down to Southern Maryland – Leonardtown and Solomon's Island.
Jim & Linda in their '63 Olds Cutlass convertible (top up!), Lou & Betty Britton in their 1991 formula Firebird, John & Janet in their '57 BelAir and Paul & Lynda in their reliable '55 met and headed down the road. We had a great drive and arrived at the US Oyster Festival in Leonardtown, MD where we were greeted as honored guests – they waived the entrance fee, gave us preferred parking on asphalt in the middle of the action, and gave each of us a festival hat! Sweet! And our cars attracted a LOT of attention all day long! The committee has already invited us back for next year.
Rick & Sue with their friends (now our friends!) Dave and Shelly arrived separately in Sue's new Subaru. And Linda's brother John and sister-in-law Aggie joined us as well.
Everyone enjoyed the day of great seafood, pit beef & turkey, all things oyster and of course - Ice Cream! Lots to do and lots of great and unusual crafts, music, exhibitions, oyster shucking contests (amateur and professional) and more. The winner of the oyster shucking contest will go on to compete internationally in Ireland!
After those of us in classic cars left, we cruised to Cecil's Country Store and the Old Mill and enjoyed the great items there. Then off to the hotel, and then everyone except John & Aggie met up for dinner at the Ruddy Duck and enjoyed a great dinner.
Sunday morning, we met in the hotel for their super-duper breakfast buffet which got us off to a good start on a rainy day. Unfortunately, the great weather we enjoyed on Saturday didn't last until Sunday and we awoke to lots of rain. But we made the best of the day and headed out to Piney Point Lighthouse for a tour of the museum and lighthouse in the pouring rain. After we enjoyed the lighthouse, we headed north on Route 5 and stopped at Bert's Diner for a great lunch and chance to dry off. After a really nice lunch, the rain had eased off a bit and we resumed our travels up the road. It was a bit slow going, but we all made it home safe and sound, if a bit soggy!